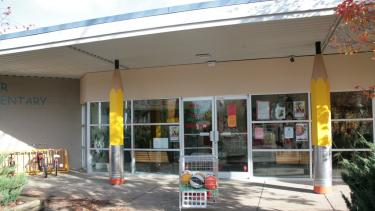 About Us
A picture of Alexander Elementary:
Alexander School is a warm, welcoming place found in the heart of central Abbotsford.  It has 12 divisions K-5 with 251 students.  We are in walking distance to Abbotsford Middle School,  Abbotsford Senior Secondary School, Abbotsford Library and Downtown Abbotsford. We currently have 12 Divisions, a Physical Education Teacher, two Learning Support Services Teachers, a part time ELL teacher, and Literacy Support Teacher. Within our school we have a Strong Start Program, Hand in Hand Child Care, as well as an after school program.  Please take some time to explore our website and feel free to contact us if you have any questions. Alexander School is an attractive, mostly updated building set in one of the older neighborhoods in Abbotsford. There is a real sense of community among our parents. With no playground within walking distance of our school, the playground at Alexander Elementary is a meeting place for parents and their children before & after school, as well as on weekends.
At Alexander Elementary School our mission is to work as a team, recognize the individual needs of our students and set high expectations for them.  We consistently care for and respect ourselves, our colleagues, our students and parents, so that our students achieve their personal best as they develop into global citizens.
Alexander School is set in one of the established neighborhoods found in central Abbotsford. This school is a community meeting place for parents and their children before school, after school and on weekends. One can always find children playing on the playgrounds and adults socializing, often families are found picnicking here and having a fun time.
The staff of our school is truly a team, in the way we support each other, learn from each other, and work together to meet the academic, emotional and social needs of our students. Administration (including clerical staff), teaching staff and support staff at Alexander Elementary are all willing and often called to go beyond their job description or responsibility for the sake of safety, learning or emotional well-being.
The support and involvement of parents and community volunteers is very important for students to reach their potential. We have many parents, grandparents and volunteers who arrive at our school on a regular basis to read with children, help organize the home reading program, play games, etc. To be another adult in the students corner for them to connect with. 
We are fortunate to have the Strong Start Program at our school. Every afternoon parents and grandparents arrive with infants and preschoolers. They enter the front doors and proceed down the hall to their classroom. Everyone is happy to have these younger children as part of our school. They are invited to join us in presentations, school celebrations and assemblies. The families use school library and the children who will be going to kindergarten  join the kindergarten classroom for  story and center time one afternoon a week. 
Carter's Kids is a afterschool program which is offered to our grade 3-5 students. This program has expanded to a spring break and summer program as well.  It is run by support staff and teachers from Alexander Elementary, helping students with their school work, working on academic and social goals. 
We serve breakfast 5 days a week at Alexander Elementary. Breakfast is prepared and served by staff and volunteers. This is made possible through sponsorship from North View Church, a Breakfast Club of Canada Grant, school funds and private donations. Breakfast time is a great way to start the day. It is an opportunity for families, teachers and friends to connect before the school day begins. 
All parents and guardians are invited to attend assemblies and school celebrations.